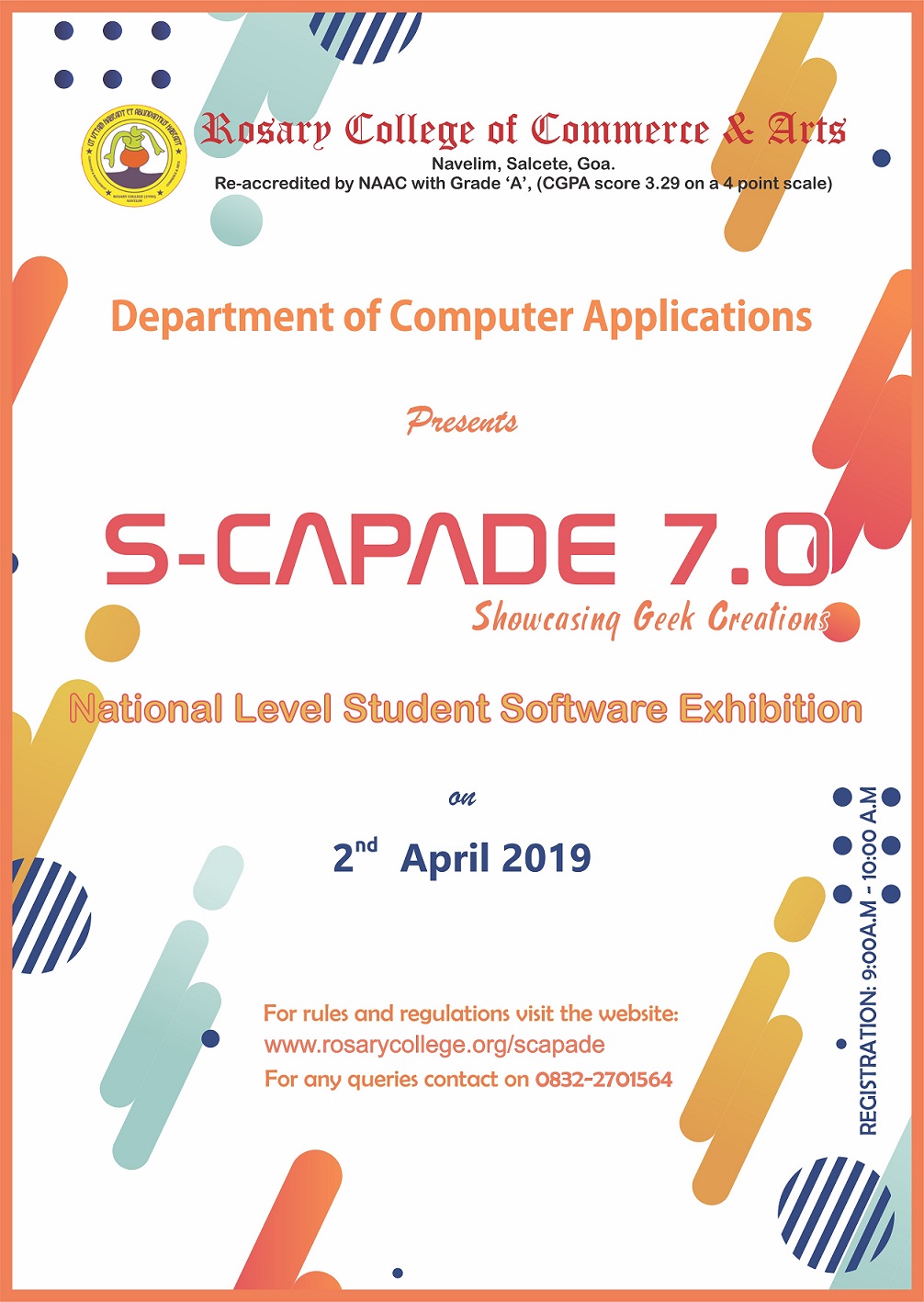 S-Capade is an annual software exhibition, pioneered by the Department of Computer Applications of our college, in 2013, to motivate and inspire students to develop software of high quality conforming to standards.
The exhibition aims at promoting a culture of ethical and quality software development, S-Capade has been taking strides to be one of its kind in Goa, aimed at targeting the large student community. S-Capade also attempts to expose talented individuals to potential employers.
Right from its inception, S-Capade was well participated by students and received good reviews from reputed personalities in the field of information technology and academia who have judged this event in the past.
The invites are out! We at Rosary's are waiting for you…
Be the best in the room..
Come and showcase your innovative software to the masses.
Date: 02/04/2019
Day:  Tuesday
Venue: Rosary College Hall.
S-capade 7.0
National Level Software Exhibition
on 02/04/2019
Exhibition Rules
Each participating team should consist of 2 members.
Participants should at the time of registration, present the following:

Letter signed by the principal of the respective institution.
College identity card.
Participants should be prepared to explain and demonstrate the highlights of their software in not more than 30 minutes (the presentation period may change subject to the number of participating teams ).
Participants should bring their own laptops with all necessary software development environments for the proper working of their software. Rosary College will not provide any supporting hardware/software.
All team members should be present at the time of presentation.
At the time of judging, participants will be required to:

Demonstrate their software.
Explain the various aspects of the creation of the software
Defend their choice of technology for the software.
Answer judges' questions about the software.
Judges decision will be final and binding.
Judging Criteria
User Interface design
Software/Hardware Design Architecture
Features
Utility Value
Technologies/ skills/tools used
Innovative Idea
Tentative Schedule
09.00 am – 10.00am            Registration of Teams
10.00 am – 10.15 am           Inaugural ceremony
 10.15 am – 12.30 pm          Exhibition
12.30pm-   1.00pm               Valedictory Function