English  – the language of the world. A language spoken and written in almost every corner of every part of the globe. From trade and commerce to novels and books, English is everywhere. The Department of English strives to train the students with the best of facilities and an experienced staff.
Vision:
Eloquent speakers, efficient and effective thinkers, leaders and writers who can meet the current challenges and needs of the global society.
Mission:
To equip students to access their inner potential by honing their oral and writing skills in English so as to become confident, competent and credible public communication and to inculcate an appreciation for the English Language and its literatures.
Objectives:
To hone the reading, writing, speaking and listening skills in our students in the English language.
To promote the use of grammatically correct English Language and to communicate effectively.
To help students acquire the knowledge of the subject of English literature and inculcate an appreciation for World Literatures.
To nurture their innate creativity and originality and open fresh avenues for personality development.
To train students to compete at the national and global level and prepare them for the job market.
To help students acquire social, national and universal values through the study of English Literature.
Faulty :-

Priya Carvalho e Viegas
(Associate Professor & Head of the Department)
Qualification:- M.A,B.Ed, SET
Experience :- 23 Years, Joined Rosary College in 1993
Areas of Interest :-  Goan Literature, Indian Literature in Translation,Shakespeare's studies

 Anna Maria Rodrigues 
(Associate Professor)
Qualification:- M.A.(English), SET
Experience :- 25 years, Joined Rosary College in 1991
Areas of Interest :- Reading

Audrey Fernandes
(Associate Professor)
Qualification:- M.A.(English), Masters in Arts Teaching(Brenau Univ., USA),SET
Experience :- 22 Years, Joined Rosary College in 2000
Areas of Interest :-  Reading, Directing Play

Miss. Sasha  S. Pereira
(Assistant Professor)
Qualification:- M.A (English)
Experience :- 2 Years, Joined Rosary College in 2018
Areas of Interest :- Reading, Travelling & Theater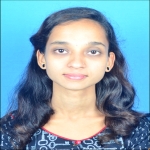 Ms. Swati Jalgekar
(Assistant Professor)
Qualification:- M.A (English)
Experience :- 1 Year, Joined Rosary College in 2019
Areas of Interest :- Reading and dancing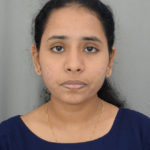 Ms. Salija M.Krishna
(Assistant Professor)
Qualification:- M.A (English)
Experience :-  Joined Rosary College in 2019
Areas of Interest :- Reading and travelling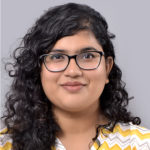 Ms. Kimberly Luke Claudina Gomes
(Assistant Professor)
Qualification:- M.A (English)
Experience :- Joined Rosary College in 2019
Areas of Interest :- Theatre, singing, hosting, Public speaking, interviewing, Writing